I would love to sing and play piano at your wedding day! This could be the song that was playing when you first met or the one that you're both listening to the most.
I accompany my singing on the piano myself. This is something special and a very pure and intimate way of making music, and it gives space for an individual interpretation of the songs.
A wedding is always a very personal matter of the heart. This is why I happily offer to discuss all variations and options regarding the singing and the order of the ceremony with you. I always will do my best to make everything possible! That's why I have already performed with a battery-powered keyboard on the beach, a cappella in a lighthouse, or with a little mini gospel choir spontaneously arranged with members of the family on that wedding day. The possibilities are endless!
Here are some FAQ about my service as 'Wedding Singer':
To book for your…
Rehearsal Dinner
Wedding ceremony (church, free ceremony, court house)
Renewal of the vows (church, free ceremony)
Wedding Anniversary
First Dance
Repertoire
My repertoire consists of more than 650 songs of the pop, rock, jazz, musical and r'n'b genres and the most important church hymns. Furthermore, I am more than pleased to learn your personal favorite tune, should it be missing on my list.
You can find the list of my wedding repertoire here…
Variations
solo – with backing tracks (at your ceremony, for your first dance or at your party as a show guest)
duo – with a trumpet player (especially ideal for the cocktail hour, reception or the dinner)
5-piece band BIG IN JAPAN – for the wedding party. More info about the band here… >>>
Procedure on the day of the event
I prefer to set up my equipment 60 minutes prior to the beginning of the event to set up my equipment and do a sound check. If that amount of time won't be available (for example because another wedding is taking place beforehand), I can make it work within a 20 minutes timeframe
I sing your chosen songs during the welcoming part, the ceremony, cocktail hour, reception or event
The most suitable slots for songs during the wedding ceremony would be: the processional (mothers, bridesmaids, groomsmen, etc.), the bridal processional, after your vows, after the ring exchange, during the lighting of the unity candle and/or communion, for the recessional.
I also offer to accompany and accompany also church hymns/gospels and worship songs
The removal of my equipment after the performance will take approx. 15 min.
After a performance of max. 90 min. I would need to take a break of approx. 10 min.
Equipment
I will provide all of the equipment needed, including my microphone, electric piano, amplifier, mixing console and cabling
All I need is a power socket and ideally a chair/stool
On special request, I can arrange an audio/video recording of my performance. This service would be added to my quote
For events for more than 120 people I recommend to rent a bigger sound system from external
PRICING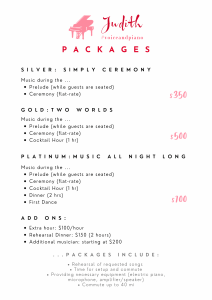 It is difficult to tell an exact fee for my wedding music service as the pricing depends on the location, date/time, length of my service and the possible extras you might choose (additional musician, rehearsals, etc.), but:
The most popular package couples book is 1 hour music during the prelude (seating of the guests) and the ceremony!  The fee for this service – incl. commute (within 40 miles), equipment and taxes – is $350.
For any further hour I'd have to charge a minimum of $100
I'd be happy to work on the perfect package for you and find the best solution for your dream wedding day, your plans and expectations and budget!
Testimonials from former bridal couples
Please, find some reviews of 'my happy wedding couples' here…
If you're interested in an ongoing musical support for your whole wedding day, I'd be pleased to offer you background music for the cocktail hour, the reception or the dinner. I also provide yet another musical climax with a show-act for the wedding party in the night! If you book multiple options I offer a discount, of course. Find out more about it here: